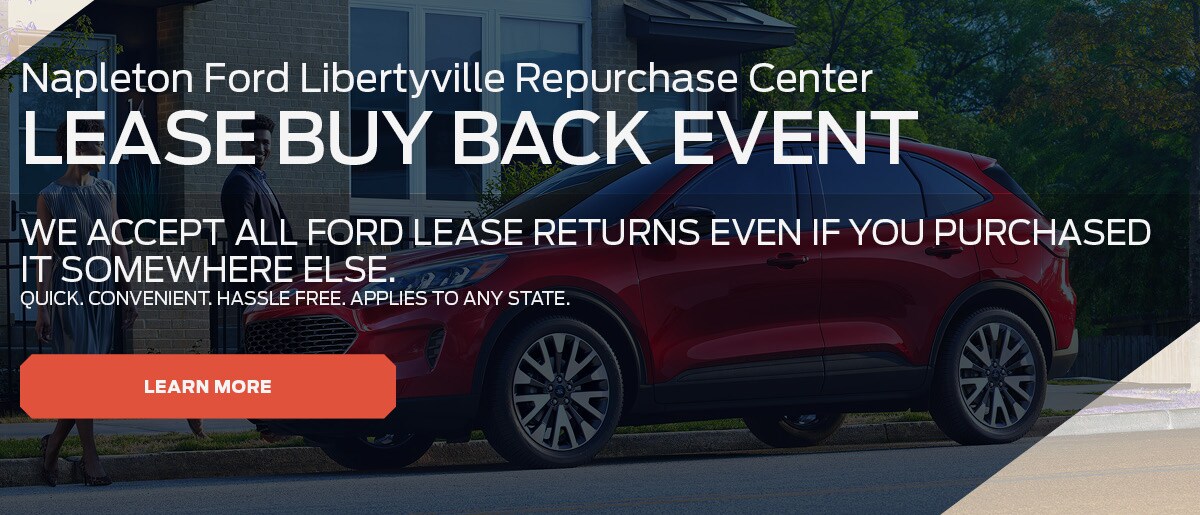 NAPLETON FORD Libertyville
LEASE RETURN CENTER
NAPLETON FORD lIBERTYVILLE  |  LEASE BUY BACK EVENT
Bring in your Ford to Napleton Ford of Libertyville to see if it qualifies for this never seen before event. Take advantage of your payments being waived for up to 24 months and receive $1000 cash or $2000 towards a new lease.
If your vehicle has damage, over mileage, accidents on CarFax, mechanical issues, we are accepting all Ford vehicles. If your lease is more than 24 months out it may still qualify.
We are also accepting Ford lease returns from across the country. 
If your Ford is in good condition you can almost count on it qualifying for this special program.
Take advantage of this crazy market while you can. All Ford leases qualify for this event no matter what Ford store you leased your vehicle from. We will know within minutes if your Ford qualifies.
If you have a lease that's not a Ford your vehicle can still qualify for this offer.
Fill out the form below and one of our Lease Managers will be contacting you to set up an appointment for your vehicle to be inspected for qualification. If you are out of state or cannot make it in, we got you covered. We can have your Ford picked up from anywhere in the country. This is a Hassle Free Process.
This lease buyback event is only at Napleton Ford of Libertyville!
Contact & Vehicle Information